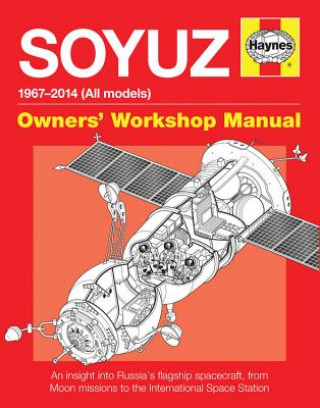 Kod: 02604147
Soyuz Owners' Workshop Manual
The Soyuz spacecraft played a major role in Russia's plans for a manned landing on the Moon and several test models were flown at the height of the 'space race'. Originally designed for circumlunar flight, Soyuz has been the mains ... więcej
Niedostępna
Dodaj do schowka
Zobacz książki o podobnej tematyce
Powiadomienie o dostępności
Będziemy sprawdzać dostępność książki za Ciebie
Wpisz swój adres e-mail, aby otrzymać od nas powiadomienie,
gdy książka będzie dostępna. Proste, prawda?
Więcej informacji o Soyuz Owners' Workshop Manual
Opis
The Soyuz spacecraft played a major role in Russia's plans for a manned landing on the Moon and several test models were flown at the height of the 'space race'. Originally designed for circumlunar flight, Soyuz has been the mainstay of Russia's space programme for 45 years, and unmanned cargo ships are still operational today. Development of Soyuz began in 1963 and the first human flight followed in April 1967. Unfortunately, after only one day, the spacecraft crashed to Earth killing its occupant and triggering numerous modifications to the design. In October 1968 - the same month that the first astronauts flew in NASA's Apollo - Soyuz completed its first successful flight. It was subsequently used for Russia's first docking operations in space to gain propaganda points while NASA was edging closer to landing on the Moon. Several more Soyuz flights followed in support of Russia's emerging space station, Salyut. But in 1971 the first-generation Soyuz was abandoned after its three-man crew was killed after visiting Salyut 1 - there had been insufficient room in the shuttle for them to wear bulky spacesuits. This problem was addressed and the second-generation Soyuz could carry two fully space-suited cosmonauts. Third, fourth and fifth generation Soyuz were developed and launched between 1973 and 2011, as well as the Soyuz TMA-M in 2010, each an improvement on the last. In all, almost 120 Soyuz spacecraft have flown in the past 45 years. Soyuz has also been adapted into an unmanned cargo-freighter/fuel-tanker carrying solids and liquids to Salyut space stations, Mir and the International Space Station. Around 125 have flown since the first launch in 1978. They have already seen almost 250 missions and will remain operational for many years. The story of the Soyuz spacecraft also tells the story of Russia's manned space stations. This fits in neatly with the Haynes International Space Station Manual, as none of the early Soviet Salyut 1 to 7 stations are covered, although there is a mention of Mir. The first flights to Salyut 1: The first flights to Russia's first space station, Salyut 1, in 1971. On returning to Earth the three-man crew die. Complete redesign of major parts of Soyuz. A series of space station missions from Salyut 2 in 1973 to Salyut 7 in 1982. The Progress cargo/tanker appears in 1978 on dual manned/unmanned operations. Mir space station: Mir space station is launched in 1986. The fourth generation Soyuz TM emerges with further improvements and a prolific interleaving of manned and unmanned flights. From 2002 the Soyuz TMA emerges as the primary vehicle for supporting the International Space Station. From 2010 the TMA-M brings further refinements and modifications. What is it like to fly Soyuz? An illustrated minute-by-minute account of launch and of re-entry and landing.
Szczegóły książki
Kategoria Książki po angielsku Technology, engineering, agriculture Other technologies & applied sciences Space science
Pełny tytuł: Soyuz Owners' Workshop Manual
Podtytuł: 1967 onwards (all models)
Autor: David Baker
Język: Angielski
Oprawa: Twarda
Liczba stron: 176
EAN: 9780857334053
ISBN: 0857334050
ID: 02604147 Wydawca: Haynes Publishing Group
Waga: 793 g
Wymiary: 277 × 212 × 15 mm
Data wydania: 04. wrzesień 2014
Ulubione w innej kategorii
---
O nas




Przewodnik
250 000
zadowolonych klientów
Od roku 2008 obsłużyliśmy wielu miłośników książek, ale dla nas każdy był tym wyjątkowym.
---
Ta strona wykorzystuje pliki cookies w celu zapewnienia wygody przy korzystaniu z naszego serwisu. Więcej informacji
---
Jak zawsze, jesteśmy tutaj. Obsługa klienta oraz dostawa paczek bez ograniczeń.
---